Berlin in Europe, Europe in Berlin
The resident city of the Camerata Europaea is uniquely positioned in the centre of European history. Following a period of rapid expansion, the Third Reich, separation into four military zones by the allied forces - ater to become East and West - Berlin is now a unified, but culturally still exceptionally diverse metropolis. The contemporary music that is inspired by Berlin's unique European atmosphere can be made accessible to the audiences throughout the European Union. more
Music PLUS
The Camerata Europaea unites music across borders with other art forms and musical genres to render the contemporary music more appealing and capture the enthusiasm of the audience. The question is, how can light, sculptures, architecture, pictures, multi media, fashion and other forms of art be introduced into a room to create a special atmosphere during a concert, thereby appealing to other senses and enabling an audience to listen to a concert with more 'relaxed' hearing. more
Polyphonic Europe
With this deliberately open motto the Camerata Europaea takes the opportunity to assume a position on current issues and musical themes, as well as to add a musical dimension to the cultural celebrations and festivals within the European Union. Thus topics can now be addressed within the context of Polyphonic Europe such as the status of European art music, or a provocative comparison can be drawn between the concepts of antiquity and postmodernism. more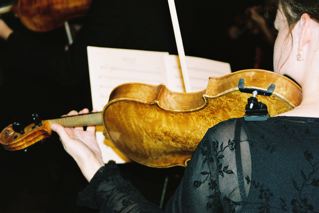 Spring Day for Europe (Young European Music)
The European Union also aims to provide young people in particular with the opportunity to develop their creative potential within the context of an orchestral project. In the Spring Day for Europe series, highly gifted young musicians and soloists are invited to develop and perform selected concert programmes with the Camerata Youth. The concept is based on the Spring Campaign of the European institutions, which encourages young people to discuss and reflect on the basic principles. more
Feminine Europe (Without the Bull)
On International Women's Day, which is celebrated every year on March 8th, the Camerata Europaea will cooperate with different partners in portraying women composers from different European countries. The aim of this concert series is to draw attention to the status of women in the musical structures of society, thereby adding a cultural constant to the political aspect of International Women's Day. more
Spiritual Europe
Europe's diversity is visible not only in its different nations, languages and cultural traditions, but also in its religious manifestations. With this concert series the Camerata Europaea wishes to trace the spirituality of European art music for symphony orchestras and inspire audiences with the messages contributed to the European idea by the different religions.
At the same time the series offers a broad scope for thoughts and associations that go beyond the religious beliefs. The link between music with religion, ethics, esoterism, mysticism, transcendence, and meditation creates a relaxed atmosphere to experience the spirituality in Europe: the possibility to remember, to dream, and to come closer to harmony in life.
Trio Europe
Every year on Europe Day on May 9 the Camerata Europaea, in close cooperation with EUNIC Berlin, performs the concert cycle Trio Europe for orchestra and solos in varying prestigious European concert halls. The concert series will contribute toward furthering the values of the European Union, as well as acquainting audiences with the diversity of European art music. The trio will be formed by three EUNIC cultural institutions representing their respective countries or three facets of European music and art culture. more
Get Together
Under its get together motto, Camerata Europaea performs with great pleasure concerts for small and full-size events of various kinds and brings together individuals in a space created specifically for exchanges and encounters. Get Together links work, art, culture, music and lifestyle. Soloists, duos, trios or ensembles provide the right setting for a festive opening, cocktail reception, corporate anniversary, event or clubbing. more
Reclaiming the Past, Regaining the Real
The wide range and new tendencies in contemporary music and visual arts will be in discourse with new media and technological applications in the arts, in the artistic series Reclaiming the Past, Regaining the Real which will attempt to explore the meeting point of music and visual arts with science and theory.
The series highlights the connection of different musical genres (as contemporary, new and electronic music; contemporary art; mixed media art, ...) while music, art, performance and improvisation come together and fuse.
Reclaiming the Past, Regaining the Real offers an intercultural program within concerts, events, exchange programs, seminars, lectures and workshops. To these belong outstanding participants like international musicians, composer, artists and conductors.
The innovative artistic series Reclaiming the Past, Regaining the Real enables a broad platform for musical and artistic exchange with more opportunities for talented, international artists to perform and especially benefits the cultural dialogue. In this way, a significant cultural series with a great impact is created.