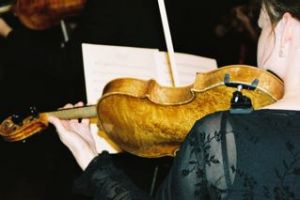 Camerata Europæa Youth (CE-YOUTH)
Camerata Europæa Youth (CE-YOUTH) is a young European orchestra founded in 2010 in Berlin and a member of the CE orchestral association. Since the founding the ensemble has continuously evolved and now presents itself especially within the series Spring Day for Europe under the motto Young European Music throughout Europe, mainly though in the three fundamental domains of Camerata Europæa – Berlin, Innsbruck, and Athens. It works entirely with young musicians between 18 and 35 years from all over Europe and enjoys the consistent support of the CE-Academy.
With its wide range of master courses, residencies, seminars, lectures, symposiums, and workshops the CE-Academy is an integral part of Camerata Youth and the other CE ensembles. Camerata Youth also offers support programmes, prizes, and scholarships as well as various orchestral projects. Additionally, the programmes offer a broad platform for musical and cultural exchange and thus strengthen the cultural dialogue. Through the diverse artistic activities, which support culture as well as Youth, positive synergies can be achieved for European culture and the hosting nations.
The musical training of young musicians is Camerata Europæa's highest priority. Talented young artists receive a high level training through the CE-Academy. Under the musical auspices of the chief conductor Maria Makraki and well-known conductors, soloists, lecturers, and composers they prepare competitive concert projects, which allow them to develop their individual skills and distinguish themselves as professional and recognized musicians.
Camerata Youth's artistic programme is consistent with the model for ambitious artistic integration work entitled 'Overcoming barriers through music'. Camerata Youth allows the development of further inspirational and sustainable features – the mobility of cultural players, the cross-border dissemination of artistic works, and intercultural dialogue – in connection with the fundamental issues of the EU Agenda for Culture. more