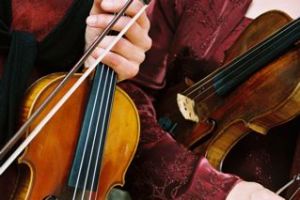 Partner Ensembles

Camerata Europæa (CE) has a perceptive comprehension of the cultural wishes of Europeans. It also moves easily between Berlin, Innsbruck, and Athens, as well as other partner ensembles of the member states of the European Union. France ((Institut Supérieur des Beaux Arts de Besançon ISBA), Italy (La Fondazione Spinola Banna per l'Arte), Portugal (Cultural Trend Lisbon), Romania (Trio Contraste) and Greece (Line Culture) are just some of CE's currently active core members.
CE rates the input from other European partner ensembles highly. Only the continuous expansion and extension of the European artistic music network will ensure its variety and complexity, as well continuing progress in the CE music world.
Camerata Europæa wants to make use of the 'mobile artistic series', especially the series Camerata Mobile, which creates a meeting point as well as an atmosphere for dialogue, to develop and activate cooperation projects with different EU states. But, needless to say, the credo of cultural exchange is still paramount. The cohesive network that already connects Berlin, Innsbruck, and Athens not only benefits the various partner ensembles, it also demonstrates the immense cultural diversity inherent in music and its respective country of origin.
At the same time, CE's media networks ensure greater and faster popularity of the participated composers and their still unknown works. The promotion of this Europe-wide network has a significant effect on the intermedia cultural exchange within the European music world.
The CE orchestral association and its partner ensembles have a vested interest in the idea of a unified and widespread international network. Similarly, focussed and extensive press and PR is the everyday tool with which CE increases the transparency of cultural diversity.