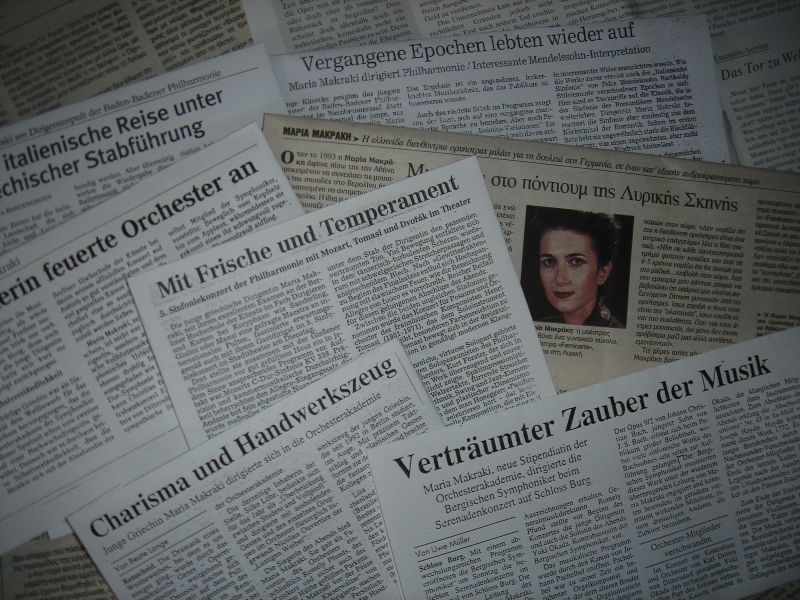 Tyrolean Newspaper
Armin Berger, May 23, 2013
Europe in accord
Innsbruck - Tyrol has a new chamber orchestra: the Camerata Innsbruck. The orchestra's aim is the communication of the rich variety of European music in a concert programme that is combination of traditional and contemporary works. Sunday saw the premier in the Stadtsaal with the orchestra's chief conductor Maria Makraki. The orchestra is a member of the Camerata Europaea, an alliance that strives to promote cultural rapprochement and European coalescence. After Berlin and Athens, Innsbruck is now the third destination in the European Union to establish its own orchestra.
Camerata Innsbruck is a successful example of the attempt to unite musician from all over Europe. The orchestra not only includes musicians from Austria, but also from Switzerland, Germany, Italy, Georgia and Greece. The Camerata Innsbruck presented itself as a mixture of absolutely exquisite, young up-and-coming instrumentalists and established orchestral musicians, many of them from the Tyrol Symphony Orchestra Innsbruck. The first piece was the work for a string orchestra E.TEMEN.AN.KI by the South Tyrolean Manuela Kerer. Drawing liberally from the fund of instructions, Ms Kerer created a bizarre tonal effect with sequences of short periods that dispensed with increases and developments. The short easy-to-follow melodies and light rhythm creating a jaunty sound. This was followed by similar sequences without tonal effects by the Greek composer Periklis Koukos for violin, piano and string orchestra. Treatment by the strings was largely limited to simple unison.
Soloists Valerie Gahl, violin, and Ute Hallinger, piano, refined the post-minimalist-tendency of the strains with taste and enthusiasm, thus preventing a drift into kitsch. The full potential of the orchestra's brilliance became apparent after the interval with L. v. Beethoven's 7th Symphony. We look forward to hearing the new European works of the future.
CE_TT_Rezension.pdf (805 KB)