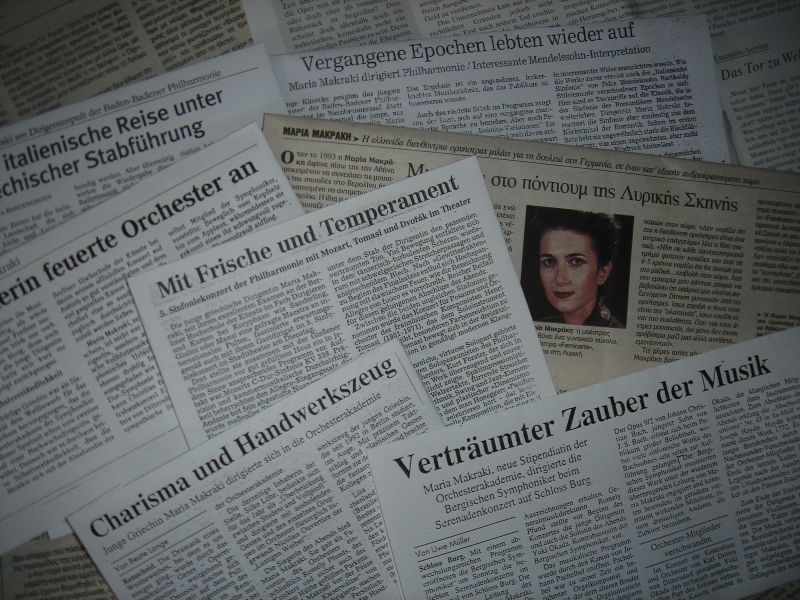 openPR
Meike Mieke, May 4, 2010
Musical cultural gift from Cyprus
On April 30, 2010 the celebrated Cypriot singer-songwriter Alkinoos Ioannidis gave an astounding concert for choir, orchestra and four soloists in the Chamber Music Hall of the Berlin Philharmonie. The performance comprised works for choir and orchestra entitled moments of a Face about aspects and moments in the lives or deaths of specific individuals. The most comprehensive of the works was the 11-piece composition Athyr, composed 2006-2008, 'music for Hypnos, the ancient Greek god of sleep'. Fragments of epitaphs and lamentations for the dead served as the foundation for the verses in the choral parts of the work.
Alkinoos Ioannidis, well-known as a poetic singer-songwriter and player of a number of different folk music instruments from the Mediterranean region, surprised his audience with this through-composed musical epic about the eternity of the moment, in which he appeared together with choir and orchestra rather than as a soloist. The work was also notable for its inner cohesion, comprehensive dramatic composition and the varying allocation of its choral, orchestral and solo parts, which Alkinoos shared with his congenial partner Yiorgos Kaloudis (Cretan lyre). Stylistically, Alkinoos drew from the repertoire of Byzantine musical elements, oriental scales and tones, and motifs from Cypriot folk music that he has built up over the years, combining them with the classical, polyphone principle of Western composition.
The second part of the Cypriot gala concert opened with the premier performance of the work Die Dauer der unerwarteten Zeit, the first part of a unfinished work that will eventually comprise 21 miniatures and the same number of poems by Linos Ioannidis. As if in time warp, the room was suddenly dominated by the present, musically reflected in choral speaking, crisp string passages and dynamic percussions.
Once again, the orchestra ensemble Camerata Europaea under the supreme leadership of Maria Makraki, demonstrated its skill and delicacy of feeling in the realisation of this type of concert of music from different European countries. It skilfully took the tact and rhythmic diversity of the Mediterranean-like drama Athyr in its stride. It set precise accents, enthralled the audience with crystal clear tones and a strong woodwind section. The ensemble had no trouble in mastering the Dauer der unerwarteten Zeit, a definite contrast to the rest of the programme. At the end, it accompanied five songs written and orchestrated by Alkinoos Ioannidis, a well as the rap Patrida, sparingly accompanied by string pizzicatos.
Free entrance to moments of a Face was the Embassy of Cyprus' 50th anniversary gift to the people of Berlin. 1200 Berlin citizens attended the concert, expressing their gratitude to the Cypriot state representatives with fervent applause.